Vision. Connect with you, share knowledge with you, and leave you better off than when we met you. 🙂
Mission. "And he said unto them, Go ye into all the world, and preach the gospel to every creature. He that believeth and is baptized shall be saved; but he that believeth not shall be condemned."
– Mark 16:15-16
Statement. "For God so loved the world, that he gave his only begotten Son, that whosoever believeth in him should not perish, but have everlasting life."
– John 3:16
Our Valuable Team Members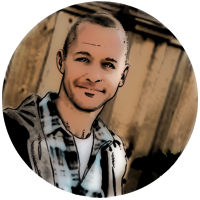 Chad Walker is a game developer with 20 years of experience in all leadership positions and production fields of art, audio, design, and code. He is a published author, grant writer, comic book illustrator, speaker and former professor at the Guildhall at Smu. Check out Chad's complete work history on the Industry Experience page.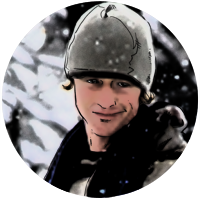 Eric Walker is a game developer with 20 years of experience in all leadership positions and production fields of art, audio, design, and code. He is a published author, grant writer, comic book illustrator, speaker and former professor at the Guildhall at Smu. Check out Eric's complete work history on the Industry Experience page.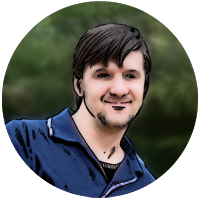 Nathan Warden is a software engineer and game programmer with 17 years of professional experience in programming and art. Nathan has been lead programmer on two full featured MMO projects, lead on four games developed on multiple platforms, and regular old programmer on four other projects. Check out Nathans complete bio at LinkedIn.
Our Story
Chad and Eric (Walker Boys) are accomplished artists, programmers, designers, professors, curriculum developers, authors, online trainers, and twins.
Both Eric and Chad have been in the video game industry for 16 years, where they honed their skills at companies like Ensemble Studios, working with a talented team creating the Age of Empires brand, to Firefly Studios, with their flagship title Stronghold and Terminal Reality on numerous products. They have worked on over 50 projects with 35 shipped games.
Alongside the computers, the boys are professional comic book artists, having worked on high profile titles like Youngblood and Prophet. They continue to enjoy the world of pencil and paper, using their traditional skills to push the boundaries of creativity and design.
In addition to their game industry and comic book experience, the Walker Boys continue looking for ways to push things forward. In 2001, they published their first book through Charles River Media, "Game Modeling Using Low Polygon Techniques," which was one of the first books released on the subject of polygon modeling for video games. They understood the need to share knowledge for others to grow and develop their skills in an emerging industry.
That same year, they began a project to ensure training in the arts was available to anyone at any level. Working with Cengage Publishing (Education to Go), they developed an online course, "Drawing for the Absolute Beginner", where they continue to instruct and work with students from over 2,000 universities. With thousands of students being trained yearly through the course, they enjoy the opportunity to help grow the arts.
In 2005, the boys were ready to write again, this time with Wordware Publishing, "Making a Game Demo from concept to demo gold", released in multiple languages. With this book, they worked together with co-author, programmer Jani Kajala, building an entire game demo (design, art, code, 3D engine) from scratch, taking you step-by-step, through the entire process.
With their passion to teach and lead by example, the boys understood the need that was coming next…training the next generation of game developers. With the skillful leadership of Dr. Peter Raad at the Guildhall at SMU, in 2003 the Walkers began their Professorships as Art Lecturers in Game Development. During the nine year stay, they led the Art Department, developing the art curriculum and course development, instructed and co-developed the team game production track, while managing hundreds of game projects, lead multiple committees, were successful grant writers in technology, and helped create the world's first Master's Degree program in Interactive Technology.
Looking for ways to improve and refine the quality of education for artists, the Walker boys in 2010, created the first ever complete video training course in game development for the artist. With 3,000 hours of personal work invested, they recorded 350 hours of video training material and established a complete two year curriculum course taking an individual through each step of art creation from traditional drawing to 3d modeling, animation and programming. Soon after developing the art course, the boys developed a complete, free 50 hour online course in Unity 3D, training individuals on programming and making games. The course to date has been viewed over 5 million times in 150 countries, training up thousands of new game developers, who are making their mark in the games industry.
While at the Guildhall, Chad and Eric took their passion and knowledge of game development and trained up hundreds of students, helping to create an army of Guildhall alumni, who continue to fill the ranks in the games industry as talented developers and skilled leaders.
After retiring from the Guildhall in 2012, the Walker's jumped back in to the games industry where they discovered their third twin, Nathan Warden.
Nathan first became interested in both programming and digital animation early in his high school years, spending most of his free time working in each field and playing video games. 🙂 Immediately following high school he entered the US Army for four years where he specialized in communication troubleshooting.
In 2005, Nathan was honorably discharged from active duty and attended the DAVE School in Orlando, FL where he earned his Associates Degree in Digital Animation and Visual Effects, so that he could learn more about creating art content for video games.
In 2006, he began his first contract job for Bruce Branit, where he worked on several commercials, spanning from customers such as Sprint and Hallmark. He was also privileged to work on several aspects of Bruce's short visual effects film "World Builder".
After working with Bruce Branit for a while, he began work on architectural visualizations at Paradigm Productions for about a year. After Nathan programmed his first professional tool, a render farm management tool for Modo called Frame Warden; he jumped ship and dove head first into his true passion… as a programmer, making games.
His experience includes several games, one of which being Friends Hangout, which is an MMO with a personal world editor, where users could upload their own personal content to sell, or for use within their own worlds. One of his recent game creation tools is an AI system that was designed by Eric, Chad, and Nathan, called "AI Behaviors" for the Unity game engine, which simplifies setting up AI in a game environment.
Nathan really enjoys creating and helping to create systems that make it easier for others to express their ideas, especially those that include the simplification of software design within games.
His passion for game development, technology and programming, coupled with his 13 years of experience in games and development provided a wonderful partnership and friendship with the Walkers.
Chad, Eric and Nathan joined together with one big project in mind, Build a Game Universe. With their holistic perspective of the games industry and their in-depth knowledge of development, they are taking 60+ years of combined experiences and putting it all in to this one project, working towards making game development available everywhere for everyone.
And there you have it. You are now up to date with Walker, Warden and Walker