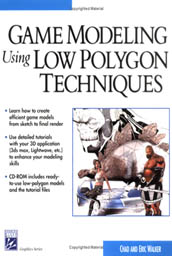 Game Modeling Using Low Polygon Techniques: The multi-billion dollar computer game industry is growing at an incredible rate, and the competition to produce real-time games with faster, more realistic effects is fierce. Mastering real-time issues is a challenge for even the most seasoned developers, but one essential tool for overcoming real-time problems is to use low polygon models.
The Art of Low Polygon Count Modeling teaches modelers how to create game-ready 3D models using any 3D application. Through step-by-step instructions, modelers learn the necessary skills, organizational techniques, and most effective ways to use 3D applications to create low poly models. Tutorials and "how-to" guidelines, teach users modeling techniques from the initial sketch phase to final development.
ISBN:  1-58450-055-7
PRICE: $49.95
PUB DATE: July 2001
FORMAT: Paperback/CD – ~350 pgs
Need more information or want to buy it? Click here.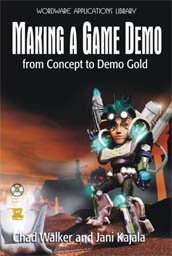 Making a Game Demo: From Concept to Demo Gold provides a detailed and comprehensive guide to getting started in the computer game industry. Written by professional game designers and developers, this book combines the fields of design, art, scripting, and programming in one book to help you take your first steps toward creating a game demo.
* Discover how the use of documentation can help you organize the game design process.
* Understand how to model and animate a variety of objects, including human characters.
* Explore the basics of scripting with Lua.
* Learn about texturing, vertex lighting, light mapping, motion capture, and collision checking.
ISBN:  1-55622-048-0
PRICE: $44.95
PUB DATE: July 2005
FORMAT: Paperback/CD – ~400 pgs
Need more information or want to buy it? Click here.